Intergroup's Tandy O. Lofland Arranges Equity and Management for Florida To-be-built Sheraton Prototype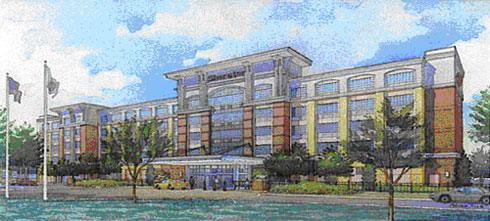 June 5, 2006 - Tandy O. Lofland, president of the Intergroup Companies, announced the recent completion of his firm's latest assignment - arranging equity and management for the 159-unit Sheraton prototype to be developed at a prime location in south Jacksonville, FL. To be owned and developed by a venture including Deerfield Hospitality Properties, LLC and Driftwood Hospitality Management, the 5-story hotel will be among the first of a new generation of Sheratons with newly designed rooms, commercial areas, and technologies.
Features will include a Shula's 347 steakhouse and three thousand square feet of flexible meeting space.
Along with the hotel's many corporate and institutional demand generators, the Sheraton will be the closest full-service hotel to the Mayo Clinic and the rapidly expanding University of North Florida.
Since 1980 Intergroup has developed or participated in hospitality and commercial properties in the U.S., Latin America, the Caribbean, and Europe, with an emphasis on full-service, first-class and luxury hotels, resorts, and mixed-use developments involving such hotel brands as Four Seasons, Hilton, Sheraton, Hyatt, Holiday Inn, Crowne Plaza, Radisson, Homewood Suites, and Hampton Inn.
Intergroup's properties and projects number almost 100 with a total value of well over $1 billion.