Intergroup's Tandy O. Lofland Arranges Equity For Costa Rica Project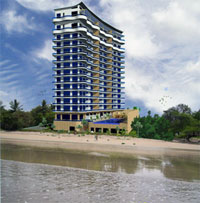 January 21, 2008 - Tandy O. Lofland, president of the Intergroup Companies, announced that the firm has arranged equity for Aqua, a 66-unit, 14-story luxury condominium project to be developed in Guanacaste Province, Costa Rica by U.S. and Costa Rica interests.
The project will occupy a prime beachfront location near the town of Tamarindo. Guanacaste Province is the location of many of Costa Rica's top existing and announced first-class and luxury tourist developments such as the Four Seasons Papagayo, the Hyatt Azulera Resort and golf complex, the J.W. Marriott Resort, a Ritz-Carlton Resort, Regent Hotel, a Rosewood Hotel, and an $800 million resort with two hotels by Steve Case, the founder of America Online.
The project will be Costa Rica's first true U.S.-style luxury mid-rise residential project incorporating the architecture, design elements, finishes, equipment, furnishings, and appliances found in the finest U.S. residential developments. In addition to the 66 condominium units there will be 12 beachfront cabanas for sale, an elaborate pool complex, a fitness center, and more.
Intergroup has been active in Latin America for over 20 years and is currently or has been involved in other projects in Costa Rica, Mexico, and several South America countries.
Since 1980 Intergroup has developed or participated in hospitality, commercial, and residential projects and transactions in the U.S., Latin America, the Caribbean, and Europe, with an emphasis on full-service, first-class and luxury hotels, resorts, and mixed-use developments involving such hotel brands as Four Seasons, Hilton, Sheraton, Hyatt, Crowne Plaza, and Radisson.
Intergroup's properties and projects number almost 100 with a total value of well over $1 billion .
Tandy O. Lofland
President
Intergroup Companies
950 Echo Lane, Suite 352
Houston, TX 77024
(713) 973-2130
(713) 973-2133 Fax
tandy@intergroupcompanies.com
www.intergroupcompanies.com