Fractional Sales Begin on Los Cabos, Mexico Resort Project Structured by Tandy O. Lofland of Intergroup Companies

April 23, 2007 - Fractional sales have started on Las Residencias at Casa del Mar in Los Cabos, Mexico. The fully furnished large two- and three-bedroom beachfront units are an alternative to a second home, will be sold in 1/12 shares, and will come with a golf membership, concierge services, and much more.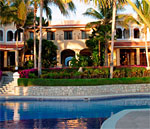 Las Residencias, whose units will be ready for occupancy in early 2008, is a part of the Casa del Mar Beach, Golf & Spa Resort, one of Los Cabos' leading resorts.
Located at the very center of the prime beachfront corridor in one of the world's hottest tourism markets, Casa del Mar is adjacent to Las Ventanas al Paraiso, consistently voted the top resort in Latin America. Each of Casa del Mar's 56 large deluxe rooms and suites has stunning views of the wide white-sand beach, turquoise waters of the Sea of Cortez, the lushly landscaped pools and grounds, or the magnificent coastline at the tip of Baja California.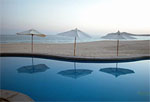 The resort, a 19th century-styled classical Mexican hacienda, offers 4 food and beverage venues, 6 beautiful free-formed pools, a full-service spa operated by world-renowned Spa Chakra, 4 tennis courts, large fitness center, and much more, including whirlpools in every room and suite. Casa del Mar is within Cabo Real, a 3,000-acre master-planned tourism development containing a Robert Trent Jones Jr. golf course (called the "Pebble Beach of Mexico"), 7 resort hotels, residential, and more.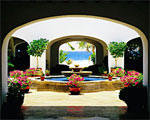 Las Residencias is being developed by long-time Intergroup associate, Concorde Holdings, along with Grupo Questro, one of Mexico's leading hotel, residential, and tourism development groups.
Recent improvements to Casa del Mar include extensive room & renovations, new FF&E, spa renovations, and Beach Club additions and renovations.
Casa del Mar was voted one of the "Top 10 Mexican Gulf Resorts" by Conde Nast Traveler Magazine in 2003 and "Top 10 Mexican Beach Resorts - #4" by the Travel Channel. It was ranked Top 10 "Best Golf Resort for a Family Trip in Mexico and Latin America" and #1 "Best Resort in Mexico & Latin America in terms of service, food, rooms, and other non-golf facilities" by Travel & Leisure Golf 2003.
Since 1980 Intergroup has developed or participated in hospitality and commercial properties in the U.S., Latin America, the Caribbean, and Europe, with an emphasis on full-service, first-class and luxury hotels, resorts, and mixed-use developments involving such hotel brands as Four Seasons, Hilton, Sheraton, Holiday Inn, Crowne Plaza, Radisson, Hyatt, Homewood Suites, and Hampton Inn.
Intergroup's properties and projects number almost 100 with a value well over $1 billion.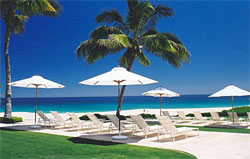 For additional information contact:
Tandy O. Lofland
President
Intergroup Companies
950 Echo Lane, Suite 352
Houston, TX 77024
(713) 973-2130
(713) 973-2133 Fax
tandy@intergroupcompanies.com
www.intergroupcompanies.com