Intergroup Companies Project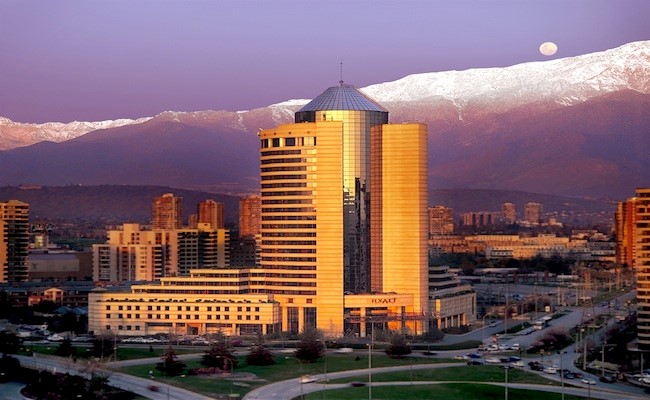 Santiago, Chile
Winner of the Conde' Nast Traveler 2014 Best Hotels in South America
Readers' Choice Award
January 5, 2015 - Tandy O. Lofland, founder and CEO of the Intergroup Companies, announced Conde' Nast Traveler designated the Grand Hyatt Santiago as winner of its 2014 Best Hotels in South America Readers' Choice Award.
Co-developed by Houston-based Intergroup Development, the Grand Hyatt was one of the first two Hyatt hotels introduced into South America by Intergroup which later advised the ownership group in the sale of the hotel as part of a three-hotel portfolio transaction.
Acknowledged as one of Santiago's finest hotels, Grand Hyatt Santiago, formerly the Hyatt Regency Santiago, is located in an exclusive residential neighborhood, 20 minutes away from Santiago city center and within easy access of Santiago's international and domestic airports. Grand Hyatt Santiago is just one hour's drive from the most important ski resorts or the coastline. Widely regarded as one of the most exclusive hotels in Chile and Latin America, Grand Hyatt Santiago has received many awards from prestigious publications such as Conde Nast Traveler, Latin Finance, Latin Trade and Travel + Leisure. Grand Hyatt Santiago's accommodations comprises 310 guest rooms and suites all of which offer stunning views of Santiago and the Andes Mountains. The hotel facilities include Hyatt's Club Olympus, a fully equipped gymnasium with aerobics room, sauna, tennis courts, lagoon-style swimming pool and the hotel's exclusive Beauty Centre for a variety of relaxation and beauty treatments. Grand Hyatt Santiago's dining options include three international restaurants and two bars, which are very popular with hotel guests and the local community, all with outside terraces overlooking the hotel's lush resort-like gardens.
For over 30 years Intergroup has developed or undertaken transactions for hundreds of projects and properties worth billions of dollars in the United States, Latin America, Caribbean, and Europe with an emphasis on middle-market, upscale, and luxury hotels, resorts, and mixed-use developments involving such companies as Four Seasons, Hilton, Marriott, Starwood, Hyatt, InterContinental Hotel Group, Carlson, Accor, Barceló, and others. Intergroup represents or has relationships with many owners, domestic and international investors, private equity firms, operators, and REITs. Intergroup is actively involved in acquisitions, dispositions, equity sourcing, redevelopments, new developments, recapitalizations, partnership formations, and advisory assignments in many U.S. markets and major destinations as well as in select foreign locations.
Tandy O. Lofland
President